Graph Curator Program
Add to Watchlist
Added to Watchlist
up to 3% of total GRT supply
Event Details
If you are interested in being a Curator and participating in this early access program, please fill out this form to register.
Subgraph Curation
Developers of decentralized applications need to rely on accurate and efficient APIs but since subgraphs are open-source and can be built by anyone, it can be difficult to identify which subgraphs are high-quality. To solve this, The Graph introduces Curation, to enable information sharing in The Graph ecosystem. Curators are vital to the protocol as they signal on specific subgraphs to indicate to Indexers which data should be indexed.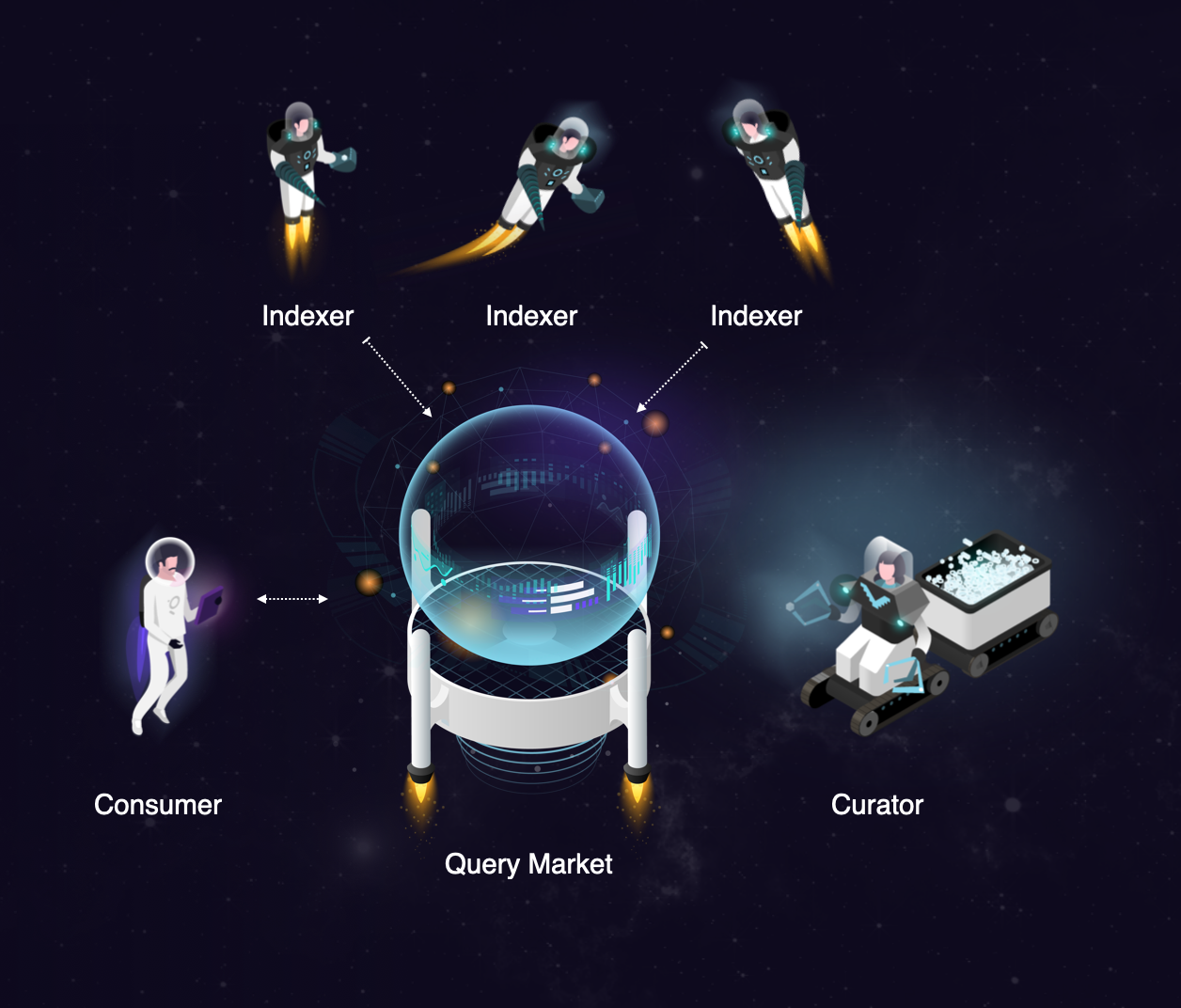 Curators stake GRT on subgraphs, to mint "signal" along a bonding curve specific to that subgraph. The signal is used to dictate the distribution of curation rewards - a cut of that subgraph's query fees that go to Curators of that subgraph. Curators are incentivized to signal on the highest quality and most used subgraphs, to ensure applications are querying the correct APIs and to earn fees for their curation work. This forms a curation market for APIs of on-chain data.

"Querying on-chain data is not trivial and can be very costly. The Graph gives Zapper a nice and effective way to query the blockchain and allows to push new protocol integrations faster. The team are excited to be a Curator on The Graph Network to help signal to Indexers which subgraphs they should query. "
Nodar Janashia, Co-founder at Zapper

Curators can be subgraph developers, users or community members! You don't need to be very technical to be a Curator- all you need is an Ethereum wallet (eg. Metamask), testnet GRT to signal through Graph Explorer dApp and knowledge of the Ethereum ecosystem and dApps.
The team at the beginning of a revolution in how humans cooperate and organize on the internet. As more and more data becomes available through open protocols, knowledgeable Curators who make decisions about what data to surface will become increasingly important. Now is a great time to learn how The Graph works and how to contribute to this future.
Curator Missions
As part of the Curator Program, Curators will be expected to complete various missions in Mission Control Incentivized Testnet. Missions will include but are not limited to:
Bootstrapping curation signal on testnet (via Graph Explorer dApp)
Creating content, memes and social sharing about curating on The Graph
Completing product testing and user studies
Contributing to Github repos, Wiki, docs and other communications
Building and publishing subgraphs

Not all missions are required to be completed but team hope Curators will contribute as much as possible to The Graph Network. Indexers have already gotten heavily involved in testnet and now team will thrilled to have Curators join The Graph community too!
Curation Grants
The Graph is allocating up to 3% of the total token supply to Curators as a grant allocation of GRT to curate on subgraphs when the network launches. Final allocations to Curators will be based on the completion of missions, contributions to the testnet and mainnet launch.

For the first year this allocation will only be usable for curation signaling and will be locked. During this period, the Curator will be able to signal on different subgraphs. Query fees that Curators earn from staking their granted GRT on subgraphs will not be locked.
Procedural Requirements
If you are interested in being a Curator and participating in this early access program, please fill out this form to register. Once registration is complete, The Graph team will be in touch to ask for required documentation to qualify as a Curator Program participant, see below:
Signed The Graph Curator Agreement
Know Your Customer (KYC) documentation

US participants, including US-based entities, will need to be accredited investors, non-US persons or non-US entities do not need to be accredited. If you do not meet this criteria, team still want to hear from you! Please sign up to Community Registration to be on the list for future opportunities.
Once you receive the Curator Agreement, please carefully review all terms and conditions about testnet scores and eligibility for rewards.
The team expect curator teams to communicate with team throughout the process, including but not limited to:
Joining The Graph Discord channel: https://thegraph.com/discord
Discussing data that would be valuable to have on The Graph, evaluating existing subgraphs and other data needs for applications
Providing qualitative and quantitative feedback about the protocol, products (eg. subgraphs, explorer dApp) and Graph ecosystem
Bi-weekly email updates from The Graph team

For any questions about the testnet, please email [email protected] or [email protected].
"Very few projects have done more to push forward the promise of Web3 than The Graph. Its upcoming network launch represents one of best opportunities to break free of Web 2.0 data monopolies and the team couldn't be more thrilled to participate in its launch as a Curator."
Adam Soffer, Product Engineer at Livepeer
---
Additional Information
Not an Indexer or Curator? Get Involved in Other Ways:
If you don't register as an Indexer or Curator in the testnet, there will be other ways to contribute in the future:
Become a Delegator and stake Graph Token (GRT) on Indexers
Join upcoming Ambassador Program to grow The Graph community
Participate in upcoming Bug Bounty Program

Delegators are users who want to contribute to securing the network but don't want to run a node themselves, so they stake on existing Indexers. They will earn query fees and indexing rewards but will not be slasheable.
To keep community flourishing, the Graph team will be launching an Ambassador Program that will allow key contributors to be recognized for their support. A Bug Bounty Program will also be launching later in the testnet and will run through mainnet launch.
Look out for more information on how you can participate in Discord or on Twitter. You can also subscribe to newsletter and read blog for updates.
About The Graph
The Graph is an indexing protocol for organizing and efficiently accessing data from blockchains and storage networks. The Graph has been running a hosted service since January 2019 with over 2,300 subgraphs deployed for Web3 and DeFi applications built on Ethereum and IPFS, like Synthetix, Uniswap, Aave, Balancer, Gnosis, Aragon, and more.

Join to community by introducing yourself in Discord for technical discussions, join Telegram chat, or follow the Graph on Twitter! Developers are always eager to chat with you, and The Graph ecosystem has a growing community of developers working to build the decentralized future.

Testnet website: https://thegraph.com/testnet
Blog: https://thegraph.com/blog/
Linkedin: https://www.linkedin.com/company/thegraph/
Everest: https://everest.link
The Graph Launches Curator Program with CoinGecko, CoinMarketCap, Messari, Delphi, Zapper & Others. With over 210 Indexers running Graph Nodes in Mission Control, the incentivized testnet, The Graph is in the final stages of decentralizing the query layer of DeFi and Web3. During Mission Control, Indexers have been operating servers running The Graph's software, completing technical missions and contributing to improving The Graph Network. Now that Indexers are busy running an early version of the network, The Graph is inviting Curators to register to join them.
You can't participate
(Event ended)