Karate Combat x CoinList Rewards Program
Add to Watchlist
Added to Watchlist
Details
CoinList users are invited to earn KARATE tokens by downloading the league's mobile app and playing 'Up Only Gaming' for their next three live sports events.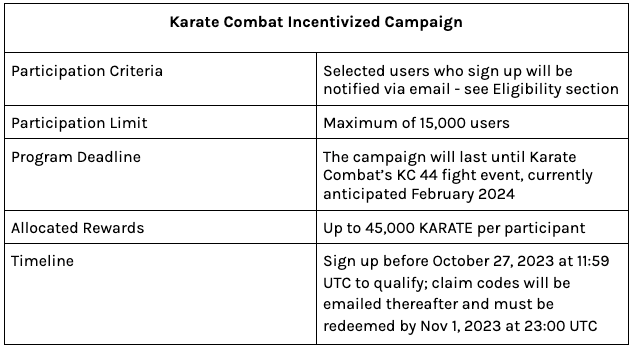 Rewards
Rewards will be determined as follows for users who sign up before October 27, 2023 at 11:59 UTC. While you are not required to have a CoinList account, reward tiers will be determined on users' Karma scores - for example, the top 2,500 with the highest Karma scores will receive Tier 1 rewards. Additional opportunities to participate may be announced in advance of KC 43 and KC 44.
For more information on how to enter and participate please see the Karate Combat Incentivized Campaign page here.
Eligibility
A maximum of 15,000 users will be selected to receive a unique claim code via email to redeem in the Karate Combat app prior to the first event (KC 42) on November 3, 2023. Users may receive preferential invitations with increased rewards based on their Karma score.
Karma is awarded to CoinList users who have demonstrated a strong track record of multiple value-add activities to networks including validators, miners, stakers, active traders, liquidity providers, hackathon participants, and early token sale participants (e.g., 2020 and earlier).
Timeline
The CoinList x Karate Combat campaign will last for the next 3 Karate Combat events.

About Karate Combat
Karate Combat is the first IRL sports league governed and gamified by a token. KARATE token holders govern software parameters, league rules and token-gated experiences and earn additional tokens at each Karate Combat event for accurately predicting the outcome of fights on 'Up Only Gaming'.
The world's premier striking league and Up Only Gaming system are built to engage the next generation of sports fans with zero paywall, a fast no-grappling fight format, events held in outstanding locations and in front of 3D VFX backgrounds. The end result is a real-life version of Mortal Kombat.
After 38 Karate Combat events, the league's founders transitioned the league in 2022 to an ownerless foundation to sponsor the development of the Up Only Gaming system powered by the KARATE token. In May 2023, the KARATE token was launched on the Ethereum and Hedera networks to allow fans to play Up Only Gaming and participate in governance voting. The league's web3 strategy was built to supercharge the league's large awareness (5 million followers, 200 million organic views/month) and grow an obsessed base of superfans by financializing fight outcomes.
For more information on how KARATE powers and incentivizes the Karate Combat ecosystem, read the whitepaper here.
Links
CoinList invites to participate in Karate Combat's Rewards Program, a grassroots effort to accelerate the growth of its combat sports league. Karate Combat is the first IRL sports league governed and gamified by a token.
23 Oct 2023 06:00(UTC+3) - 29 Feb 2024 06:00(UTC+3)
You can participate
(Event started, Registration open)