Axie Infinity Game
Add to Watchlist
Added to Watchlist
Details
Axie Infinity is a game universe filled with fascinating creatures, Axies, that players can collect as pets. Players aim to battle, breed, collect, raise, and build kingdoms for their Axies. The universe has a player-owned economy where players can truly own, buy, sell, and trade resources they earn in the game through skilled-gameplay and contributions to the ecosystem.
The Game
In order to play the game, users currently need the following:
An ERC-20 wallet with some ETH. ETH can be purchased on all major cryptocurrency exchanges.
A Ronin wallet (address), which you can download and create here.
ETH on your Ronin wallet, which you can send from an exchange or your ERC-20 wallet through the Ronin Bridge.
Once you have ETH on your Ronin Wallet, purchase 3 axies so that you can create a team in-game. These can be purchased on the Axie Infinity Marketplace.
You can create an account on the marketplace in the top right corner, follow all steps.
Download the game on the home page, by clicking 'Play Now' in the top right corner.
You now purchased your very first three axies and can create a team.
The game play is very interesting, as players get to choose if they would prefer to fight in the arena against other players to earn SLP. Or, if they'd rather play adventure mode in which players fight monsters to unlock new levels, train their axies (levelling) and earn SLP.
What is a Turn-Based Strategy?
Turn-based strategy is an element of a strategic game in which players take turns as if they were playing chess. Competitors can be beaten by using the decision-making and analytical ability to command in-game characters with a wide range of talents.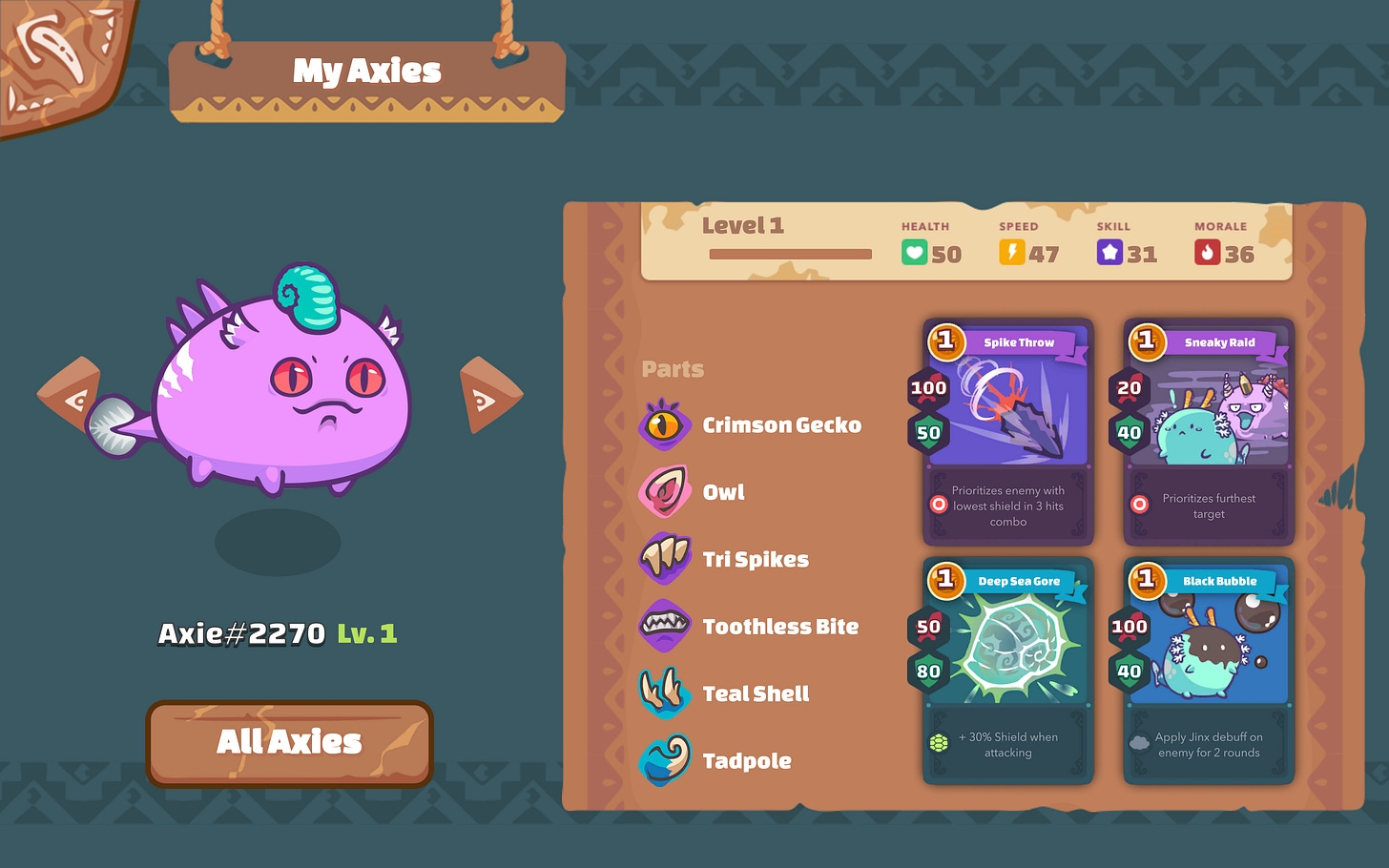 What's an Axie?
Axies are fantasy creatures that players can battle, collect, and raise.
Each Axie has different traits which determine their role in battle.
There are countless unique Axies that players can collect with varying body parts and appearances. Body parts will unlock abilities for Axies that vary across games, they will have completely different values, benefits, and skills from one game to another. Body parts also have their own unique card art for players to collect.
Each Axie has a unique set of stats that can be broken down into four categories:
Health (HP) is a number representing life energy of your Axie that can withstand damages from competitors. The more HP you have, the longer you can last in combat.
Morale is a critical strike chance of your Axie which can attack competitors 200% damage of their defense power. Morale also determines chances for last stand turns (a temporary life extension after HP runs out).
Skill increases the bonus damage for Axie, especially when several combo cards are equipped by 1 Axie.
Speed determines the turn orders among Axie in your team, so Axies with more speed tend to take turns first. If the speed point is equal, turn orders will be identified by Axies' HP, Skill point, Morale Point, and ID, respectively
Breeding & Earning in Axie Infinity
Like real-world pets, Axies can be bred to create new offspring. These offspring can be used in battle, breed new offspring, or can be sold on the marketplace.
In order to manage the Axie population, breeding has certain resource requirements.
Want a full overview of the breeding system? Check out a full guide here.
Each Axie can be bred a maximum of 7 times.
Breeds cost AXS as well as Small Love Potions.
Small Love potions can be earned by playing the game in PvE Adventure mode as well as the PvP Arena. Once you earn them, you can sync them to your wallet from this page. Please note that it takes 2 weeks before you can claim your first SLP. After this first claim, you can claim once every 2 week.
How to Breed Axie
Go to your Inventory, choose the first Axie for breeding, and click 'Breed'
Choose another Axie for breeding, and click "Let's Breed!"
There will be a confirmed transaction notification, click "confirm" to proceed
After finish breeding, Axie Egg will be acquired in your Inventory
Wait for 5 days until Axie get born, and then click "Morph to Adult"
The Axie Infinity Land
The Axie universe is called Lunacia – an open-world driven by its players and composed of several plots of land. This land is divided into non-fungible tokens (NFTs) that players can buy, lease, and develop.
Lunacia is a 301×301 grid. Each square represents a tokenized plot of land. The land game is currently under development, but players and investors are already loading up to buy genesis lots. CryptoPotato reported that a plot sold for $2.3 million worth of ETH, making it the highest sum ever paid for a genesis lot of real estate in a metaverse.
Community & Economy
All art assets and Axie genetic data can be easily accessed by 3rd parties, allowing community developers to build their own tools and experiences in the Axie Infinity universe. While still in early access, Axie is ranked the #1 Ethereum game by daily, weekly, and monthly active users. Players have spent over 1M ETH (3B+ USD) so far to progress in the game.
While Axie is a fun game, it's also taken on characteristics of a social network and earning platform due to the strong community and opportunity to truly own resources earned within the games.
A key difference between Axie and a traditional game is that Blockchain economic design unlocks the ability to have complex player-owned economies and reward players who are able to reach advanced levels of skill. Players are able to have fun and work towards ambitious goals while simultaneously earning potential resources that will have real monetary value due to an open economic system and demand from other players - "Play-and-Earn".
Currently, players can gain more resources to advance in the game by taking actions such as:
Competing in Battles to win leaderboard prizes as well as Smooth Love Potions (SLP)
Breeding Axies to produce new ones with particular Body Part combinations
Collecting and speculating on rare Axies such as Mystics and Origins
How does Play-to-Earn from Axie Infinity work?
SLP token is an in-game currency and is granted as a reward with real value. There are three ways to collect SLP Tokens; completing daily missions, exploring adventure mode, and combat in Arena mode.
Selling in-game NFT Assets
As we all know, these cute Axies are NFT assets that players can trade to earn huge bucks of money in Axie Marketplace. Breeding Axies for sale is also a lucrative option, so is selling Axie you gained from the beginning, as long as you develop them to be more powerful and uncommon.
Token governance and use of funds
As of writing, The Axie team has used funds raised according to the allocations below:
85% Development expenses
10% Administrative costs
5% Business development & marketing
All funds are held in a multi-sig cold wallet controlled by the core team. All movements of fund require at least 2 out of 3 signatures from top management team.
AXS Token and SLP Token
Axie Infinity Shard (AXS) is a currency that powers Axie Infinity's system with a fixed cap of 270,000,000 units. AXS token owners maintain an exclusive right to vote on any changes related to the platform's ecosystems and can also stake them for high returns as well.
Another type of in-game currency is Smooth Love Potion (SLP), which may be earned by completing daily tasks or winning battles. It is also an essential resource to breed Axie together with AXS tokens. Both AXS and SLP tokens are now available for trading at Zipmex today.
AXS token overview and use-cases
The AXS token has the following use cases:
Governance: AXS token holders will be able to stake their tokens and participate in governance votes.
Staking: Players will be able to stake their AXS to earn weekly rewards.
Payment: Players can use the AXS token to play games and conduct payments.
Setting up your account to start playing Axie Infinity
Transfer ETH coins to Metamask
Transfer ETH coins from Metamask to your Ronin Wallet
Access Axie Marketplace, select Axie you want to obtain, and click "Buy now"
Axies will be transferred in inventory (at least 3 Axies are required to engage in game modes)
Download the game on PC, Android, or iOS, and you may start your journey at Axie Infinity now!
You can click here for Axie Infinity's download links on each operating systems
Downloading the Application
Once you have 3 Axies you're ready to download the application and start playing!
DL Links
iOS: Please request an invitation here.
Links
More Guides & Resources— Check this page for a list of advanced guides, video tutorials, and tools to help you on your Axie adventure!
Axie Infinity Discord — Want to start playing but not sure where to start? Join our Discord, our community will answer any questions you have!
Axie Infinity Twitter — Our DM's are always open :)
Axie Infinity is a digital world in which players get to breed, trade and fight with their favourite axies.
from 1 Oct 2018 03:00(UTC+3)
You can participate
(Event started, Registration open)