The Akashian Challenge Phase 3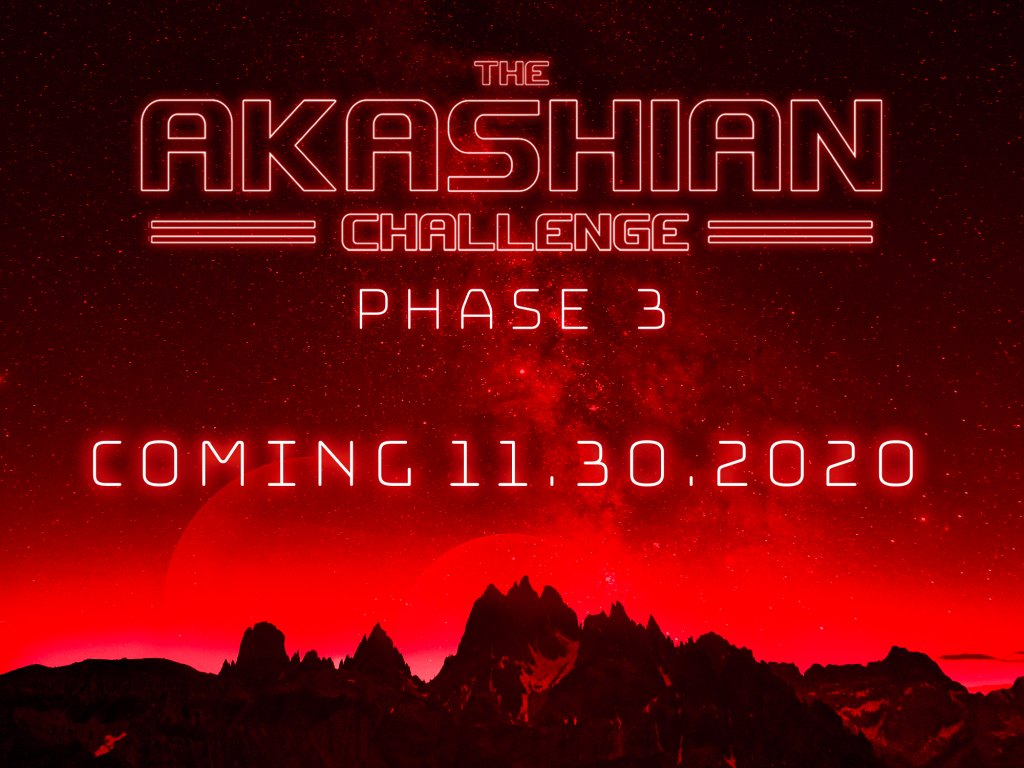 Details
The Akashian Challenge Phase 3
Phase 3 will encompass two weeks of challenges.
Phase 3 Goals:
Test platform functionality for Mainnet 2
Distribute tokens to potential users for Mainnet 2
Build a catalog of applications (SDLs) to launch Mainnet 2
Phase 3 will accelerate vision for a decentralized and open cloud computing marketplace, serving as the launchpad for Mainnet 2. Users will be able to lease compute for deploying applications.
Performance Improvements from Cosmos SDK v0.40
With the upgrade to Cosmos SDK v0.40, also known as Stargate, there will be a number of performance enhancements to the testnet. The most notable improvement in Phase 3 will be the migration to Protobuf, which will increase transaction throughput and decrease the amount of data being sent between nodes.
Other upgrades shipping with Stargate include state sync, full featured light clients, and support for the first standardized protocol for Inter-Blockchain Communication (IBC)!
Application Deployments
With Phase 3, users can deploy web-based cloud applications — such as static sites and API servers — most common DeFi application components. Team look forward to seeing and rewarding deployment of innovations like stateless or "state light" blockchain applications; these are self-bootstrapping and have light storage requirements.
Deploying a blockchain node on network will be one of the premier use cases, and will provide dApp developers an alternative to expensive and inflexible cloud provider services such as Amazon Web Services and Google Cloud. Even though Akash can support data-intensive full nodes, the scope of this testnet is limited to functionality tests and does not include stress tests.
Week 1 Start Guide
Qualification Criteria
To start, please sign up here if you have not participated in Akash's previous testnets. Although team do not prohibit anyone from participating, to claim AKT rewards:
You must not be a resident of any of the OFAC sanctioned countries.
You must pass KYC/AML verification to collect the rewards (located during signup). The details for collecting the reward will be posted at a later time.
Guided Challenges
The linked instructions will be available on 9AM PST / 5PM UTC on Monday November 30th, 2020.
Community Content
For Anything Goes and DeCloud for DeFi, Content must be submitted, reviewed and verified to be considered for rewards. Please submit the following here:
First & Last name
Email
Link to blog (if applicable)
Link to guide (if applicable)
Your username github link
Discord username
Your content will be verified by following your guide to confirm deployment, and blogs will be weighed on quality of the content.
Limited to one submission per form, but participants are able to submit multiple submissions for different blogs and guides of different projects.
Rewards
You can check out the Phase 3 Rewards Overview for a detailed schedule of reward opportunities. A total of 500,000 AKT is allocated for Phase 3 Rewards including:
Guided Challenges
Open Ended Challenges
Network Support Challenges
Community Content Challenges
Bonus Challenges
Guided Challenges
Guided challenges are meant to be used as step-by-step guides to deploying applications on network.
Each challenge will have accompanying instructions and example deployment configurations.
Week 1
In Week 1, challenges will focus on deploying stand-alone applications, from website deployments to single-node blockchain networks.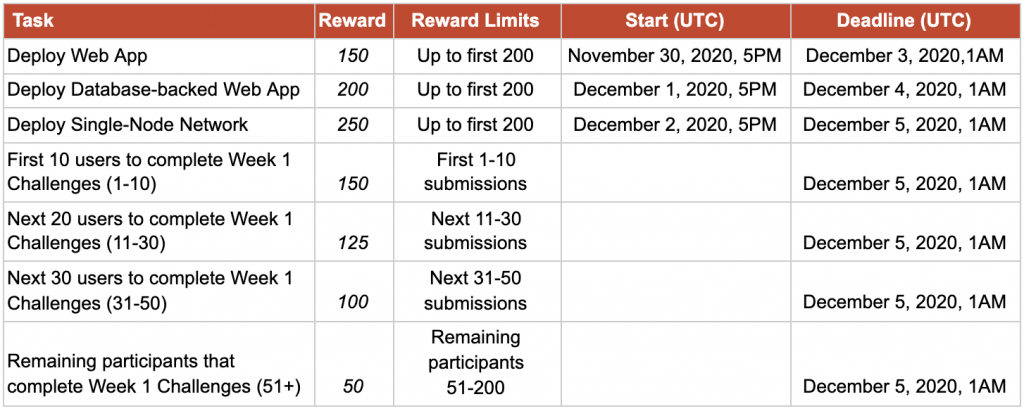 Week 2
In Week 2, challenges will focus on leveraging Akash to deploy various node types and components for a live blockchain network. We'll provide connection details for a live Cosmos SDK-based network.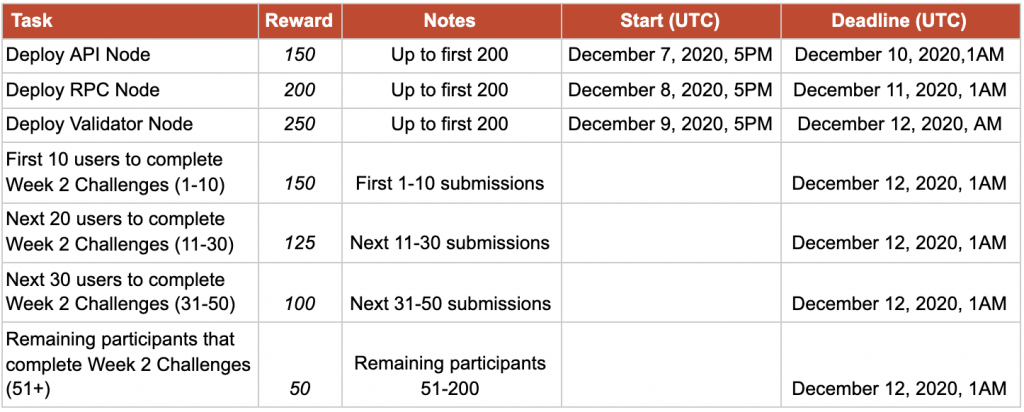 Week 1 and Week 2: Bonus Rewards
Following are bonus rewards that can be earned for participating in both weeks of Phase 3.


Open Ended Challenges
As a generic cloud platform, Akash DeCloud has the potential to be used in a wide variety of use cases. This open-ended challenge is meant to explore what kinds of applications can be deployed on DeCloud, and how.
You'll support the Akash DeCloud community by finding unique applications to deploy and sharing your deployment configuration via a pull request on Awesome Akash.


Network Support Rewards
While validators and other network components are not necessarily targeted in this testnet, they are of course essential to maintaining a healthy DeCloud.
Leverage this testnet to practice your operations, or try new ones.
To earn rewards for this challenge, you should be actively participating — keep your component(s) up-to-date and respond to any network proposals that may come up.


Community Content Rewards
Drop your knowledge about Akash DeCloud to earn rewards. The community content challenges support community members who independently publish articles and guides related to the Akash Network.
Community Content Rewards Categories:
Anything Goes: An open-ended category where "Anything Goes!" with community-generated content related to Akash.
DeCloud for DeFi: A category calling on community to leverage Akash DeCloud as the infrastructure supporting DeFi applications.
1) Anything Goes
For the first category, here are Anything Goes ideas for you to explore:
Jitsi (Private Video Conferencing) – running en ephemeral Jitsi server would be the gold standard of private video conferencing


2) DeCloud for DeFi Rewards
For the second category, Akash DeCloud's platform ensures DeFi protocols remain sovereign and more accessible.
In this bonus challenge, team're asking the community to help demonstrate Akash's capabilities to support DeFi.


DeFi List


As a final bonus challenge, team'll be selecting the most thorough, impactful, interesting, or otherwise awesome guides, and awarding extra points to them per the following categories.

---
Socials
Team invite you to join in the final stage of exploration, Phase 3: Developer Operations. With 500,000 AKT in rewards, you'll need to leverage your technical and social prowess to maneuver your way to victory.
30 Nov 2020 20:00(UTC+3) - 8 Dec 2020 20:00(UTC+3)
You can't participate

(Event ended)